Reprise: Volunteer Trail Crew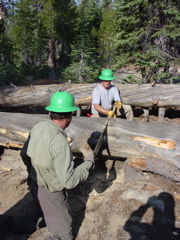 This outings program is a reprise of show number 10, first posted on September 15th, 2005. Steve joins a work day with the High Sierra Volunteer Trail Crew, in the Jennie Lakes Wilderness of the Sequoia National Forest.
The crew was camped at Jennie Lake. They cleared fallen trees near Poop Out Pass, and added switchbacks to a steep and eroding trail descending from there to Jennie Lake.
Why join a trail crew? For the feeling of making a difference, to be with more experienced outdoors men and women, to spend time in the wilderness, for the fun and camaraderie, or perhaps just for the food!