A Wild Bird Chase, part 2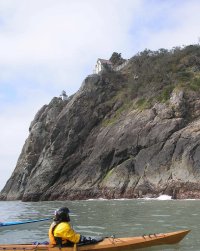 This outings program takes us on outings organized as part of the Godwit Days Spring Migration Bird Festival in Arcata, California. Arcata can claim to be one of the top birding locations in the country.
In this part, Steve continues on a hike in the Headwaters Forest Reserve in a quest to see a particularly difficult to find, endangered wild bird, the marbled murrelet. Dave Anthon and Julie Clark from the Bureau of Land Management led the hike.
Now in an obsessive persuit of the marbled murrelet, Steve joins a sea kayaking tour in Trinidad Bay lead by guides from Kayak Zaks.