Restoring a Park Gone to Pot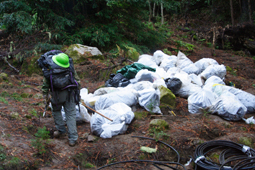 Photo by Paige Falk

This outings program takes us to California's first state park, Big Basin Redwoods. We explore the problems caused by a five-acre marijuana plantation hidden in the park's backcountry, and follow the volunteer group who provided considerable labor to clean it up.

Marijuana cultivation is a growing problem in public lands, especially in the Pacific west. Marijuana demand is increasing, our borders are tightening, and budgets for managing our public lands are being cut. National Parks, National Forests, and State Parks are increasingly attractive to organized crime for use as cultivation sites.

You can help in two ways: 1) By refusing to fund the black market for marijuana production, and 2) by volunteering for or donating to volunteer organizations who provide labor to restore these damaged ecosystems.