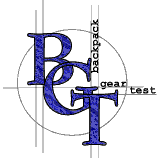 This gear program presents the first of our new series of gear reviews. Now, more than ever, our gear programs depend on your participation.
Steve talks to Backpack Gear Test founder and publisher Jerry Goller about the new relationship between Backpack Gear Test and the WildeBeat. Richard Lyon reviews the Ryders Eyewear Intersect sunglasses.
If you're interested in reviewing for Backpack Gear Test (BGT), read: How to become a tester. Manufacturers provide more gear than the volunteers at BGT can keep up with. By becoming a tester, you can help your fellow wilderness travelers find out what gear will work for them.