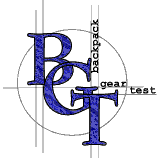 This gear program presents reviews of LED lanterns and headlamps. In the past few years, the one piece of outdoor gear that's improved most dramatically in performance versus weight is lighting.
Larry Kirschner reviews the Coleman 4AA Pack-Away Lantern. Roger Caffin reviews the Princeton Tec Quad Headlamp. Tim Tessier reviews the Black Diamond Icon Headlamp.
If you're interested in reviewing for Backpack Gear Test (BGT), read: How to become a tester. Manufacturers provide more gear than the volunteers at BGT can keep up with. By becoming a tester, you can help your fellow wilderness travelers find out what gear will work for them.