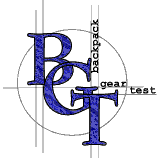 This gear program is a wrap-up of Backpack Gear Tests's reviews of 2007. Steve asked the volunteer editors and moderators from Backpack Gear Test to talk about their most memorable reviews. Memorable reviews might be about their favorite gear; but they might instead be about especially thorough or innovative approaches to reviewing outdoor gear. These four people responded: Thomas Vickers1, Ralph Ditton2, Rick Allnutt3, and Rebecca Sowards-Emmerd4.
Out of more than a thousand reviews published on BGT this year, they were impressed by these:
Backpack Gear Test has more gear to review than reviewers. You can start out by reviewing gear you already own, and then you might be able to get other free gear to review. Read: How to become a tester.