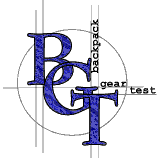 This gear program presents reviews of wool-blend socks. You probably don't think much about socks, until you find yourself wishing you had different ones.
Andrew Buskov reviews the Bridgedale X-Hale Socks. Pam Wyant reviews the Defeet Blaze socks. Kevin Hollingsworth reviews the Defeet Classico socks. Ray Estrella reviews the Wigwam Wool/Silk Hiker socks.
If you're interested in reviewing for Backpack Gear Test (BGT), read: How to become a tester. Manufacturers provide more gear than the volunteers at BGT can keep up with. By becoming a tester, you can help your fellow wilderness travelers find out what gear will work for them.