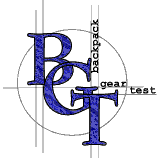 This gear program is a report on the Winter 2007 Outdoor Retailer's Expo. When the outdoor industry gathers, it's a major expedition for the folks at Backpack Gear Test; but it isn't all about the toys.
Jason Boyle1, Raymond Estrella2, and Rebecca Sowards-Emmerd3 report on the most interesting gear they hope to test for BackpackGearTest.ORG. They comment on products by: GoLite1, Snow Peak1, MSR1, Primus1, Fox River1, Injinji1, Sierra Designs2, Osprey Packs2, Blue Desert3, MontBell3, and Go Pro3.
Backpack Gear Test has more gear to review than reviewers. You might be able to get free gear to review. Read: How to become a tester.
As a wrap-up, we invited Kurt Repanshek to comment on a larger issue facing the outdoor industry. His commentary includes a statement by Peter Metcalf, president of Black Diamond Equipment. More of Kurt's commentary is available on his web site, National Parks Traveler.