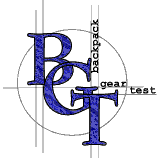 This gear program presents reviews of two lightweight synthetic-insulated jackets. These jackets can serve as lighter, more compressible replacements for the ubiquitous fleece jacket. The reviews are provided by volunteer reviewers from Backpack Gear Test.
Pamela Wyant reviews the Big Sky Products Convertible Sweater. Christine Korhonen reviews the Integral Designs PLQ Jacket.
Backpack Gear Test has more gear to review than reviewers. You can start out by reviewing gear you already own, and then you might be able to get other free gear to review. Read: How to become a tester.