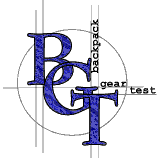 This gear program presents reviews of three different rain pants models. The reviews are provided by volunteer reviewers from Backpack Gear Test.
Brian Tannehill reviews the Red Ledge Full Zip Rain Pants. Pam Wyant reviews the Big Sky Products Warm-n-Cozy Epic Pants. Kathy Waters reviews the Integral Designs eVENT Rain Pants.
Backpack Gear Test has more gear to review than reviewers. You can start out by reviewing gear you already own, and then you might be able to get other free gear to review. Read: How to become a tester.