Bay Area Wilderness Training, part 2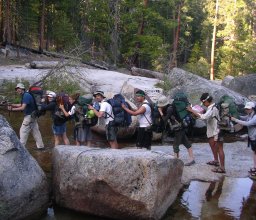 This outings program takes us on a Wilderness Leadership Training course offered by the non-profit group, Bay Area Wilderness Training (BAWT). This part 2 of 2 is a follow-up to our original program on ethnic diversity among wilderness users.
Steve meets a diverse group of teachers, counselors, and other youth workers on the trail just outside of Yosemite National Park. He talks to:
Roger Miller, executive director of BAWT.
Hector Nuño, a volunteer youth counselor from San Jose, California.
Judy Kuang, a youth coordinator for the Chinatown Community Development Center in San Francisco.
We also hear from:
Katie DeClercq, a program assistant for the Norcal Mountain Bike Racing League in
Kellie Meehan, camp director for the Presidio Community YMCA in San Francisco, California.
The entire WLT class singing.
If you're a teacher, youth counselor, or other youth development professional in the greater San Francisco Bay Area, BAWT's Wilderness Leadership Training can teach you all the skills you'll need to take at-risk and under-privileged youth out on life-affirming wilderness adventures.
You can help BAWT with their work by participating in Climbing for Kids. A program that provides you gear and gets you up a major mountain in exchange for your fund-raising assistance.