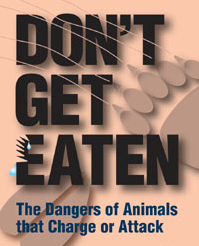 This skills program looks at how to handle potentially dangerous animals in the wilderness. How afraid of them do you really need to be? Is this something that should prevent you from getting into the wilderness?
Steve interviews Dave Smith, a former backcountry caretaker at Yellowstone National Park, and the author of two books, Don't Get Eaten, The Dangers of Animals that Charge or Attack, and Backcountry Bear Basics, the Definitive Guide to Avoiding Unpleasant Encounters. Dave talks about ways to handle bear, cougar, and large herd-animal encounters.
Two great sources of information about bears are the Sierra Interagency Black Bear Group, and the Interagency Grizzly Bear Committee. Also, check out our earlier edition titled Keeping Bears Hungry.