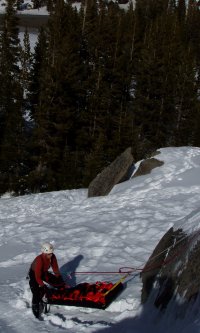 This skills program explores opportunities to volunteer as a wilderness search and rescue responder. Steve interviews John Chang of BAMRU, Tim Kovacs of MRA, and Kathy Miller of NASAR. They talk about how you can make a rescuer's job easier if you should ever need them. They talk about the challenges and rewards of joining a search and rescue team. (Hint: There are few better ways to build your wilderness skills.)
If you're curious about technical mountain rescue, take a look at the Mountain Rescue Association (MRA). Their Team Information page lists all of their affiliated teams.
If you're not in a mountainous area or are curious about less technical search and rescue teams, take a look at the National Association for Search and Rescue (NASAR). Many of their affiliated units are listed on their Links page.
In our edition #16, there's an interview with Sergeant Phil Caporale of the Fresno Country Sheriff's search and rescue unit. He gives some additional advice on being better prepared in case you ever need to be rescued.