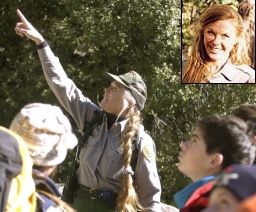 This wild places program is a thanks and tribute to Yosemite National Park's wilderness manager, Ranger Laurel Boyers. Ranger Boyers is retiring from the park after 31 years of service on October 1st.
We hear from Mike Tollefson, the superintendent of Yosemite National Park. Mike comments on Ranger Boyers' Career. Steve interviews Laurel Boyers, who talks about her experiences in the span of her career.
We understand that Laurel Boyers and her husband, also a park service employee, will soon be taking some time to visit other national parks. We thank her for her service in the interest of preserving Yosemite's wilderness, and wish her the best in her future adventures and endeavors.
This edition was made possible by:

A Berkeley-based publisher of outdoor guidebooks and maps for California and beyond. From the peaks of Yosemite to the stairways of San Francisco, we've helped people find their way in the outdoors for over 40 years.