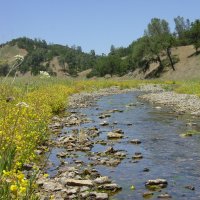 This wild places program explores the Orestimba Wilderness of California's Henry W. Coe State Park. This often overlooked state park wilderness is 23,000 acres, and is rarely visted.
Steve rides with backcountry ranger Cameron Bowers on a patrol trip to the wilderness. Volunteer park historian Teddy Goodrich rides along. Along the way they meet Bob Bambauer, a horse camper. They stop for lunch and to talk along Red Creek, in the heart of the wilderness area.
The Pine Ridge Association provides a lot of volunteer help to operate and maintain the park, and they maintain an excellent informational web site. Several years ago, the wilderness area was threatened by a proposal to route a high speed rail line through it.
Traveling into the Orestimba Wilderness is a challenging trip. But no where is California's inter-coastal range so well preserved and undeveloped. And you could have it all to yourself!