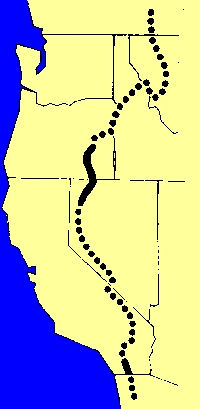 This wild places program explores an alternative to the Pacific Crest Trail (PCT), a 1,300 mile route called The Desert Trail. This trail runs roughly parallel to the PCT, through the high desert of California, Nevada, and Oregon, and is eventually planned to continue through Idaho and Montana.
Ross Edgington of The Desert Trail Association talks about the history of the trail, the development of the route in Oregon, and the current progress toward the trail's completion. Steve Tabor of The Desert Survivors talks about the development of the California and Nevada sections. He describes their 2005 relay hike of the entire trail. He contemplates the prospects of someone doing a through hike of the trail.
Maps and guides for The Desert Trail are available for the sections that are already established. The Desert Trail Association sells maps and guides for the Oregon section. The Desert Survivors sell guide and map books for the California and Nevada sections. Both organizations are looking for volunteers to support their efforts to complete the trail.
Now that the rain has subsided in Northern California, we're ready to wrap up our desert features for the season.