Reprise: Using All Fours, part 1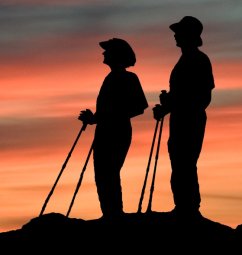 This skills program is part 1 of our look at the science and skills, myths and fact around trekking poles. Is hiking with poles a trendy gimmick, or a valuable skill? (This is a reprise of our edition 86 originally presented on May 17, 2007.)
Steve talks to Julianne Abendroth-Smith of Willamette University in Salem Oregon. She's a biomechanics professor studying the physics of hiking, and how hiking with various poles and walking sticks affect the body.
Steve talks to Jayah Faye Paley, an author and educator, and co-host of an educational DVD, POLES for Hiking, Trekking & Walking. Jayah's web site, Adventure Buddies, provides more information about her educational products and services.
We'll hear more from Julianne Abrendroth-Smith and Jayah Faye Paley in part two. We'll find out Jayah's techniques for using poles, and we'll update you with the latest scientific research about those techniques.