Creatures of the Night, part 2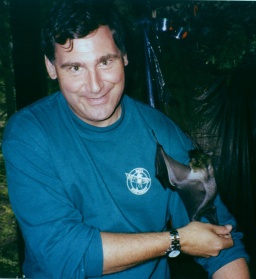 This skills program is part 2 of a look at how to appreciate bats in the wild. (Part one is here.)
We hear from Curt Black, a technical advisor for the nonprofit group, Bats Northwest. We join Curt on one of his evening bat walks, recorded in Seattle's Green Lake Park, on August 11th, 2007. Curt demonstrates the electronic equipment he uses to listen to the ultrasonic echolocation calls that bats produce. He identifies the call of a silver-haired bat. Afterwards, he talks about how we can watch and listen to bats on our own wilderness adventures.
Curt indicated that the level of environmental threats to bats are unknown. We don't know enough about them to know whether they are endangered. We do know that forestry practices and pesticide use is adversely affecting their populations. You can find more information on the web site of the Bat Conservation International organization.
WildeBeat members can download a bonus recording of an entire evening bat walk from the WildeBeat Insider web site.