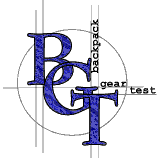 This gear program is a report on the 2008 Outdoor Retailer's Summer Market. What gear will BackpackGearTest be reviewing for next summer?
Volunteers Rick Allnutt, Christopher Nicolai, and Ken Bigelow report on the most interesting gear they hope to test for BackpackGearTest.ORG. They comment on products by: GoMotion, Ultimate Survival Technologies, Gerber, Bushnell, Sigg, Insect Shield, and the Therm-a-Rest division of Cascade Designs.
If you're interested in reviewing for Backpack Gear Test (BGT), read: How to become a tester. Manufacturers provide more gear than the volunteers at BGT can keep up with. By becoming a tester, you can help your fellow wilderness travelers find out what gear will work for them.
WildeBeat Members can download the entire reports from the BGT testers from our WildeBeat Insider web pages.