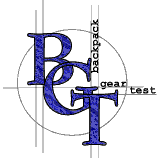 This gear program presents reviews of winter sleeping bags. Winter camping is cool. But it isn't cold if you have a warm sleeping bag to crawl into.
Michael Wheiler reviews the Sierra Designs Cirque. Jennifer Koles reviews the Sierra Designs Electra. Andy Henrichs reviews the Sierra Designs Echo.
If you're interested in reviewing for Backpack Gear Test (BGT), read: How to become a tester. Manufacturers provide more gear than the volunteers at BGT can keep up with. By becoming a tester, you can help your fellow wilderness travelers find out what gear will work for them.