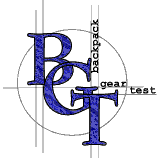 This gear program presents reviews of three base-layer shirts. A lot of us don't give much consideration to those layers we wear closest to our skin.
Kevin Hollingsworth reviews the Drimove L/S Top by Go Lite. Coy Starnes reviews the Outdoor Research Men's Sequence LS Tee. Kathy Waters reviews the women's version of OR's Sequence shirt, the Outdoor Research Women's Essence LS Tee.
If you're interested in reviewing for Backpack Gear Test, read: How to become a tester. Manufacturers provide too much gear for the reviewers they have.
Steve announced that we need to take a break to make some changes in what we're doing. Please watch our web page for updates.