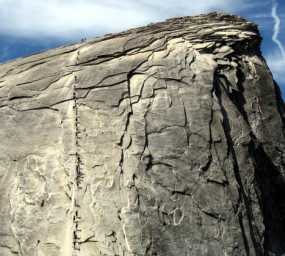 This wild places program examines whether the hike to Yosemite's Half Dome has become too popular to be considered wilderness. Is this national park attraction too attractive?
Steve tells the story with the help of the following voices:
Thomas Herrera, a Half Dome climber from Stockton, California.
Rick Deutsch, author of the book, One Best Hike, Yosemite's Half Dome.
Scott Gediman, spokesman for Yosemite National Park.
Karen Hamilton, a Half Dome climber from Cobb, California.
Laurel Boyers, retired wilderness manager of Yosemite National Park.
Francis Engler, a backpacker from Oceanside, California.
The steel cables, which make the climb possible for most people, are down for the season. So at this time, the park highly discourages trying to climb the peak. The cables are usually reinstalled by the end of May.
While climbing Half Dome may be an adventure and a proud achievement for many, some people feel the popularity of the route takes away some of its wilderness character. Scott Gediman recommends planning your climb on a weekday, perhaps a Tuesday or Wednesday, to avoid crowds. Former wilderness manager Laurel Boyers goes further, and says that the best wilderness experiences in Yosemite are away from the crowds that often fill the Half Dome Trail. Yosemite has Web pages devoted to planning wilderness trips.